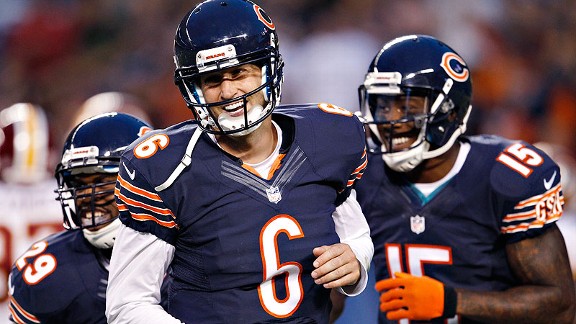 I was curious how Jay's stats would have trended out for a full 16-game regular season. I was also curious how these stats would have compared with some of the better NFL quarterbacks. I thought some others here might be interested in how it trended out, so I'm posting the data below. Any QB's that had fewer than 16 games, I also trended their stats out for a full 16-game season. Then, since I was doing this for other QB's, I went ahead and trended out Josh McCown's stats for a full 16-game season also.
Jay Cutler and Brandon Marshall (Getty Images)
​
One thought that I had when I ran these numbers is that Jay had (arguably) some of the best offensive weapons in the NFL supporting him this past year, along with one of the better offensive minded head coaches. Jay had two Pro Bowl receivers, along with M.Bennett, a really solid TE & on top of that he had one of the best receiving RB's in the entire NFL...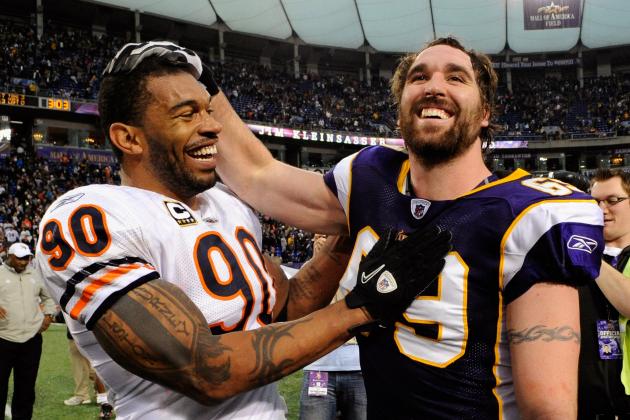 Overview Comparison: Jared Allen vs Julius Peppers
​
Tonight I was curious about the statistical comparison of Jared Allen vs Julius Peppers. I've read a couple of articles comparing the two, but none of them included all of their career stats. I thought I'd post what I found here in case anyone else wanted to have a simple head-to-head comparison of their careers to date. These stats are from NFL.com and pro-football-reference.com. I also tried to include the more important career awards, records and even some of the more obscure stats. I'm sure there's much more than these, so if you know of others please share them here if you can.
Peppers and Allen. Getty Image
​
Both of these guys have had stellar careers, and my gut feeling is that both of them (barring injury) will have solid seasons for their new teams. It's...
The top 12 storylines for the 2014 NFL season — and a Jay Cutler video
BY CHRIS STRAUSS Gannett News Service July 3, 2014 6:39PM
Audibles Podcast: Cutler or Stafford?
Sports Illustrated
Sports Illustrated's Doug Farrar and Chris Burke discuss if they would rather have Matthew Stafford or Jay Cutler start for their team.
Link to video;
http://www.sportsfanlive.com/web/ar...cleId=15610319&team=nfl-chicago_bears&tid=msp
Updated: July 3, 2014 6:42PM
1. Messing with the PAT
A proposal to move the extra point to the 25-yard-line didn't get approved at offseason owners' meetings, but the league did decide to try out point afters from the 20 during the first two preseason games. The kick, which is currently essentially a 20-yard field goal, will be the equivalent of a 38-yarder and...
Chicago Bears training camp is always an incredibly exciting experience. Always. But this year it shapes up to be an epic camp for the ages. No more "Camp Lovie" country club atmosphere where players used to lounge around the practice fields of Olivet Nazarene University, knowing their roster spots were assured no matter what they did, or didn't do.
Those days are gone now, in a Marc Trestman heartbeat.
The players who descend upon training camp in a few weeks will be fighting for roster spots - some will be fighting for their NFL lives, knowing that if they fail to make this roster, they may not make ANY roster. We will see epic battles on the practice fields this year.
The utterly amazing thing is that Chicago Bears fans can watch these battles, in person, sometimes almost close enough to touch the players - for free. That just blows my mind. I dearly love going to Bears games. But for our family, it's pretty...
In a thread regarding Ka'Deem Carey and his fit as the Bears #2 RB several of us including; Ski, Ric, Bear Jim, JJ-30, and myself began to debate Matt Forte's abilities and status as an "elite" type NFL RB. Stats were presented which showed that Forte often gains much of his yardage on a few longer runs while often failing to gain significant yardage or even loses yardage on others and I for one don't deny that. But if you analyzed the runs of many other great RBs including Gale Sayers and Barry Sanders you'd find somewhat that same. They're known far more for their big plays than they are for grinding it out 4-5 yards or more at a time on almost every play like Walter Payton did.

Ski pulled up some interesting stats on this which I commented on and we debated. In that same thread and JJ-30 also chimed in with his thoughts. In that regard I'll tip my hat to him and refer to some of his thoughts as well because yes, he does know a little something about NFL RBs, so IMHO his...
One area of our defense that was a disaster last year still remains in an unsettled state even as we head toward training camp just three weeks or so away. The depth charts haven't been published yet but anyone whose followed that OTAs and mini-camp knows who the lead dogs are at most of the defensive positions except for LB.

We know that Allen, Paea, Ratliff, and Houston will be the front line front four, Tillman and Jennings will be the starters and CB with Fuller sliding in at LCB in the nickel while Jennings moves to the slot, and we know that Mundy is the starting FS. Vereen has been playing FS with the ones so far but there's an underlying current that says he's only keeping it warm until Conte returns and that Conte will be given first chance to keep his spot in the preseason. What we still don't know though is who the starting LBs will be other than Briggs.

Even the coaches don't all seem to agree on it and the media simply adds more confusion. Trestman has been...
Well, first off I'd like to thank you for visiting one of the Oldest and Most known Chicago Bears Fan Sites on the internet.
We have always had that something special that Chicago Bears fans return for. Maybe its the Chicago Bears Fans? Maybe its the fun we have? Maybe its because we keep this place troll free? After all this is the BEST place for Chicago Bears Fans.
Ok, so I'm done selling you about DaBears.com, after all you are here already!
View attachment 1229
So what is this all about?
We are looking to add original content again on DaBears.com. We are looking for members who wish to have their articles posted on our front page! You can have your articles posted for members to read and comment on.
It's more than just articles. It's true interaction with real fans. Not the homers you may be used to.
We're looking for post game reviews, Top ten lists, Pre-Game analysis, weekly game picks, you name it.
We want to offer our members the ability to share...
We are going to have an Office Pool Pickem league. It's really simple. Here are the rules:
- You pick the winner straight up each week. No point spreads, simply who will win.
- The picks for each game close out Noon the day of the game (regardless of what time it starts). So the 1pm game needs to be picked by noon that day. The 8pm game, needs to be picked by noon that day. So it's simple. Make all your picks by noon, the day of the game.
- The member with the highest total of winning picks for the season is the champion.
- In case of a tie, those who are tied will go into the playoffs. After the playoffs hopefully we will have a winner.
- If still tied, the winner will be the member closest to the total score of the SuperBowl.
The winner will receive:
The First Annual Trophy (Customized Tervis cup; 24oz), with your Name added. The design will be tweaked a little to fit your name. I love my DaBears tervis.
...