DaBears - Chicago Bears Message Board and Fan Site
NFL players to get tracking chips in shoulder pads
The NFL Gets Quantified Intelligence Courtesy Of Shoulder...
Inform
The NFL is making a move to integrate RFID-based activity tracking tech to give fans, coaches and players more information about what exactly athletes go through during each game. The Zebra...
The NFL is making a move to integrate RFID-based activity tracking tech to give fans, coaches and players more information about what exactly athletes go through during each game.
By
Ellen Jean Hirst
Tribune reporter
3:48 p.m. CDT, July 31, 2014
Beginning with the NFL's regular season, players will be equipped with tracking technology in their shoulder pads measuring how fast, far and what routes they run – in real time.
The small radio frequency identification...
I just got back from training camp and thought I'd post a few brief comments about today's practice (their 6th practice of TC). It was a beautiful day with perfect weather. Most years it's brutally hot out there, but the players have sure had ideal training camp weather this year.

It seemed like there was a lot going on at once so I tried to focus on some individual players. Here's what stood out to me, FWIW. Lance Briggs looks just fine. I was a bit worried about him coming off the shoulder injury, wearing a brace, and with his age creeping up on him, but he looked like the player we've seen play at a pro-bowl level in years past. He's obviously got some left in the tank.

I guess the player who stood out to me most, in a positive sense, was Shea McClellan at LB. He looks like he's a perfect fit at LB. Watching him play today, the first thing that jumped out at me was the fact that he looks big for a LB compared with guys like Bostic and Briggs. He looked very fluid,...
Where Bears rank among the NFL's most loyal fans
July 29, 2014, 11:15 pm
CSN Staff
Are Bears fans the most loyal in the NFL?
Not according to a study

by the Sports Marketing Analytics team at Emory University, which tracked "a variety of statistical measures to track fan loyalty" on both an equity and social media scale.
In terms of equity, the study tracked "just how much a fanbase supports its team financially."
The report averaged out the last three seasons,
and the Bears finished sixth, two spots ahead of the Packers and behind only the Cowboys and Giants in the NFC.
Other surprising notables were the Vikings at No. 13, the 49ers at No. 18 and the Seahawks at No. 27. Earlier this month...
http://www.chicagobears.com/multime...rtifacts/33bebbd8-b343-4ee5-a6d2-330949c26f2f
This is a pretty cool little feature from ITB. We get to meet still another McCaskey, Brian this time, and Brian takes our ITB "fox" Lyndsay Petruny into the Bears Archive room for a look at some very old Bears memorabilia.
A lot of GSH's personal mementoes, uniforms from the '20, '30, and '40 including Red Granges. Old poster for games, the original Chicago Bears Stock Certificates now almost 100 year old.
It's a pretty cool video and if you get tired of hearing Brian talk and looking at old shit there's always Lyndsay to look at and she's pretty easy on the eyes.
Enjoy Bears Fans................
Brian Kersey/Getty Images
Behind the Face Mask
15 hours ago
My Career Starts Now
Chicago Bears safety Brock Vereen, a fourth-round draft pick in May, recently attended the NFL Rookie Symposium in Ohio with the rest of the league's first-year players. Here is his account of what he learned at the enlightening event
By Brock Vereen
Begin with the end in mind.
2014 Hall of Fame inductee Aeneas Williams repeated this message as he wrapped up the first session of the NFL Rookie Symposium for the NFC teams. After three long days of presentations, meetings and panels, we heard the most important lesson of all. But all of the events that got us to that final moment made up an informative and influential couple of days for those of us who took advantage.
I didn't really know what to expect coming into the symposium....
The Bears History starts with "Mr. Everything", George S. Halas.

Many of you know that I recently volunteered to provide a periodic write-up for this forum regarding Bears history. While I am not a professional columnist, I have always been a bit of a novice historian and given my love for Da Bears, this seems like a good fit, at least for me. I hope you all will enjoy some of the "nuggets" that I plan to share as much as I plan to enjoy researching and bringing them to you. My plan is to provide you with some interesting stories about this historic franchise without getting too dry and making this sound like it came from a dusty history book from the depths of some long forgotten library. Some of the history will be "ancient" while some will be more modern. I have given a great deal of thought as to the subject of my first foray into this new endeavor, and I just can't get past Papa Bear, our beloved founder, and how it all started.

Most of us know that GSH (George Stanley...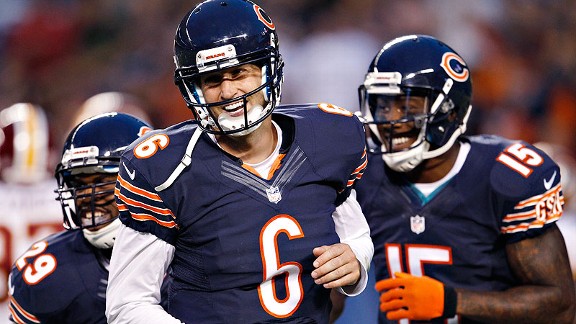 I was curious how Jay's stats would have trended out for a full 16-game regular season. I was also curious how these stats would have compared with some of the better NFL quarterbacks. I thought some others here might be interested in how it trended out, so I'm posting the data below. Any QB's that had fewer than 16 games, I also trended their stats out for a full 16-game season. Then, since I was doing this for other QB's, I went ahead and trended out Josh McCown's stats for a full 16-game season also.
Jay Cutler and Brandon Marshall (Getty Images)
​
One thought that I had when I ran these numbers is that Jay had (arguably) some of the best offensive weapons in the NFL supporting him this past year, along with one of the better offensive minded head coaches. Jay had two Pro Bowl receivers, along with M.Bennett, a really solid TE & on top of that he had one of the best receiving RB's in the entire NFL...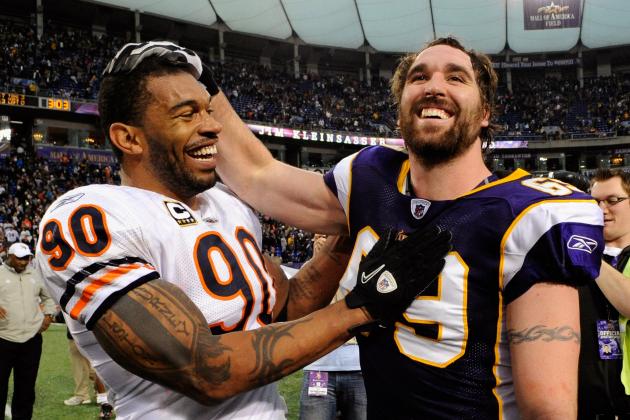 Overview Comparison: Jared Allen vs Julius Peppers
​
Tonight I was curious about the statistical comparison of Jared Allen vs Julius Peppers. I've read a couple of articles comparing the two, but none of them included all of their career stats. I thought I'd post what I found here in case anyone else wanted to have a simple head-to-head comparison of their careers to date. These stats are from NFL.com and pro-football-reference.com. I also tried to include the more important career awards, records and even some of the more obscure stats. I'm sure there's much more than these, so if you know of others please share them here if you can.
Peppers and Allen. Getty Image
​
Both of these guys have had stellar careers, and my gut feeling is that both of them (barring injury) will have solid seasons for their new teams. It's...
The top 12 storylines for the 2014 NFL season — and a Jay Cutler video
BY CHRIS STRAUSS Gannett News Service July 3, 2014 6:39PM
Audibles Podcast: Cutler or Stafford?
Sports Illustrated
Sports Illustrated's Doug Farrar and Chris Burke discuss if they would rather have Matthew Stafford or Jay Cutler start for their team.
Link to video;
http://www.sportsfanlive.com/web/ar...cleId=15610319&team=nfl-chicago_bears&tid=msp
Updated: July 3, 2014 6:42PM
1. Messing with the PAT
A proposal to move the extra point to the 25-yard-line didn't get approved at offseason owners' meetings, but the league did decide to try out point afters from the 20 during the first two preseason games. The kick, which is currently essentially a 20-yard field goal, will be the equivalent of a 38-yarder and...
Chicago Bears training camp is always an incredibly exciting experience. Always. But this year it shapes up to be an epic camp for the ages. No more "Camp Lovie" country club atmosphere where players used to lounge around the practice fields of Olivet Nazarene University, knowing their roster spots were assured no matter what they did, or didn't do.
Those days are gone now, in a Marc Trestman heartbeat.
The players who descend upon training camp in a few weeks will be fighting for roster spots - some will be fighting for their NFL lives, knowing that if they fail to make this roster, they may not make ANY roster. We will see epic battles on the practice fields this year.
The utterly amazing thing is that Chicago Bears fans can watch these battles, in person, sometimes almost close enough to touch the players - for free. That just blows my mind. I dearly love going to Bears games. But for our family, it's pretty pricey...